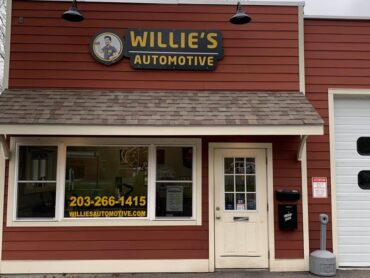 Our goal at Willie's Automotive is to make your automotive repair experience as easy for you as possible. We offer free local pick up and drop off for repairs and if you want to wait, we offer free WiFi. 24 hr night drop. We stand by our work for 1 year, 12,000 miles (parts AND labor) on most repairs.
Willie's Automotive Named Top-rated Service Center 2 Years In A Row!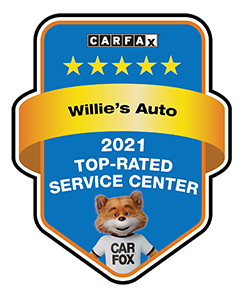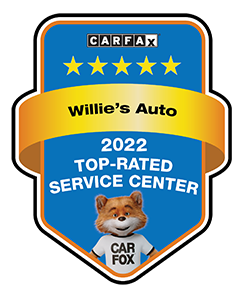 Willie's Automotive is being recognized in the fourth annual CARFAX Top-Rated Service Center Program. We received a 5 STAR Rating out of a possible five stars based on verified reviews from CARFAX Car Care members.
 "We are constantly striving to make it easier for car owners to feel confident about servicing their vehicles," said Mike Liou, Head of Service Marketing at CARFAX. "We have 24 million active Car Care members, and that number is growing. These members are actively trying to take better care of their vehicles by using our maintenance and recall alerts. We used direct feedback from these verified customers to put together this list of the best of the best."
It all started out one day when a childhood friend got me a job at a local repair shop/gas station in my hometown. I started sweeping floors at the age of 14 years old in that gas station. I quickly became a thorn in the side of my mentor, who took me under his wing while teaching me invaluable lessons about becoming a responsible person and instilling in me the necessity of building trust as a firm and solid foundation for all of my future relationships. I eventually became one of his top performing auto technicians.
I decided to spread out from a "mom and pop" four bay garage to a large dealership, where I excelled and began looking toward ASE certifications and continuing my education. I continued to work hard at becoming the best auto technician that I could be in the corporate arena. After several years of pursuing excellence in the corporate auto technician world, I decided to move to Connecticut where my career path led me into being a service manager at a busy three bay garage while acting as a diagnostician and performing all aspects of mechanical work. I've always been goal oriented and I have always set goals for myself to keep me challenged and to take me as far in the automotive industry as I could go, which lead me right back to corporate auto dealerships and away from repairing cars. I stepped away from auto repair for four years as I learned the customer service end of the automotive spectrum as I accepted a position at another large dealership as a service consultant.
It was in May, 2019, when everything in my world lined up perfectly and at the right time, beginning, as all of my successful and long lasting relationships have begun…with friends. Friends encouraging me, friends giving me information and suggestions, friends referring work to me, friends supporting me. I have been blessed to have a lot of dreams come true in my life by being diligent and working hard, by setting goals, and by building all of my relationships on trust. After 30 years in the automotive business, from my humble beginnings as a floor sweeper to my ultimate success at a corporate dealership, I am so very proud and humbled to say that I have opened my own shop. Willie's Automotive, LLC, is a dream come true.
Amazing Customer Service. Picked up my car, and noticed there was an issue (due to the parts I supplied) called willies and they fixed it FOR FREE after hours. Thank you very much, definitely won me as a customer. -Nick
great service, great people
What a great experience! Although the repairs were costly, rightfully so since some major work was needed, I never felt like they were anything but honest, upfront, and professional. Super great place and I'll definitely be back! (Hopefully not soon though!)
Willie's fixed an issue for me that a previous mechanic had not fully completed and they did it in less than two days! Very impressed by both how fast they fixed the problem for me and their quick responses with my questions afterwards. I will be recommending them!
I had a specific, odd, uncommon, major problem with a chevy cruze that other local places failed to diagnose correctly. Willie's did their due diligence in their diagnostic that confirmed my suspicions about what the issue was. They quoted a fair price with a reasonable timeframe for the job, and they stuck to both of those to the dollar/day. Staff was friendly, helpful, good at explaining everything, and the car drives like new. They know their stuff. Can't ask for more than that. I'll be back next time I've got car issues (hopefully not too soon).
If you are a supporter of local business and you want to get the right job done at a fair price, you will give Willys Automotive a try. They have the latest equipment and they use original factory manufactured parts not foreign substitute aftermarket. They completed my repairs at a competitive price and even drove me home and picked me up see Willie or Rachel. They are very versed on automotive repair. Give these guys a try. Respectfully, Joey Barca.
Fast, friendly, and efficient great customer service
Marnee Lancashire
2022-10-26
Repaired flat tire. Very reasonable!!